Panasonic DMC-TS3
It's summer. And if you're like me, you want to get out and take pictures. But wait. Are you forgetting something? Yes, you forgot about your crushing fear of dementia which will inevitably make you forget where the photos were taken. Well, there's a solution for that.
It's the Panasonic DMC-TS3
, my favorite adventure camera with built-in geotagging (the ability to add location metadata to the photo). This allows you to see where the photo was taken from iPhoto, Flickr, and other photo tools.
The DMC-TS3
isn't a battery hog like other GPS cameras. But it does checks its position periodically so that it doesn't take too long to find its new location.
(Panasonic DMC-TS3
with the Lowepro Rezo 30 case
.)
Here's a map of geotagged photos from within iPhoto of my bike trip along the Great Allegheny.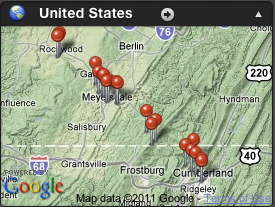 Other Geotagging Solutions
There are unfortunately very few cameras with GPS tagging built-in. Cell phone cameras such as the iPhone will geotag photos automatically. You can use any camera with the neat iPhone app GeoLogTag but this requires several extra steps to add the location information later. I'd love to have geotagging built into a larger sensor compact camera like the Canon S95.
Waterproof
While the Panasonic DMC-TS3
won't produce the same low-light shots a S95, it has the additional advantage of being waterproof. It takes amazing underwater photos and videos.
Being waterproof, it's also great for skiing or any outdoor sports where rain or sweat would attack a normal camera.
The only thing I wish the DMC-TS3
kept from the DMC-TS2 is the rubberized case which made me feel better about bouncing it off rocks. It's not a huge deal. I've put a little bit of black electrical tape on the camera to make it more grippy in wet situations (see photo).