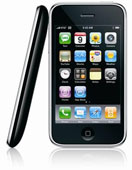 We've been researching the possibility of corporate and AAA discounts with the new iPhone 3G. Because the iPhone 3G does not have a profit sharing arrangement between AT&T and Apple like the original iPhone did, it should be treated as other phones offered by AT&T. And there are online reports backing up claims that AT&T is offering discounts. One source showed me his ordered Family plan that he got a 23% discount through his corporation. This applies only to the service, not the phone itself. But when calling AT&T directly, we were told that no discounts are possible.
So what's the real deal? We'll continue to investigate.
UPDATE: It is possible to get corporate discounts from AT&T for iPhone plans. The discount applies to the main line, and you still pay $9.99 for each additional line.