Cell Phone Boost That Works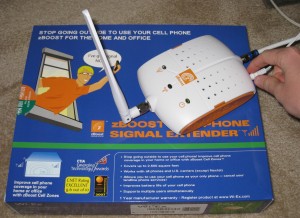 You might have seen stickers that you put on the back of your phone. They supposedly improve coverage, but they work just about as well as hope. This is better than that. It's the zBoost Cell Phone Signal Booster
.
The zBoost Signal Booster is equipment that you need to install at your home or office (now there is a car model
too).  It consists of two parts:
Antenna to pick up the signal. It is in 16 inch by 1 inch PVC pipe
Booster that you place where you need the signal to go. It is about the size of a router or cable modem.
The antenna and booster are connected by a coaxial cable. There are different zBoost models costing $215-$310 depending on the cell carriers you need boosted. Be sure to get the right model for your needs.
If you read the reviews on Amazon, you will see that most people either love it or hate it. This is based on the individual situation in a particular location. You need to have coverage somewhere so that you have a signal to boost. The ideal location is typically on a roof or a window. Then you put the booster where you need coverage, which is recommended to be at least 25 feet away from the antenna in order to reduce interference.
My Experience
I just installed the zBoost for someone in Arlington, Virginia. It was the dual-band 800 and 1900 MHz XY510 model
because they have iPhone 3G's, which use both bands depending on if they are on AT&T's Edge or 3G network. Their living room went from no coverage to 5 bars. Be sure to follow the instructions closely and experiment with placement. In my case, changes of 1 foot for the receiving antenna made a difference of 3 bars.
If your home or office has poor cell phone coverage, this could be well worth the investment.