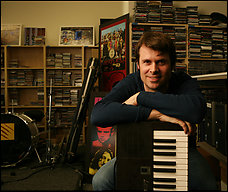 Pandora is a web site that provides streaming music to your computer, your iPhone, and other devices. It creates customized stations based on music you like and if you give a song a "thumbs up" or "thumbs down". You can click on a song you like to go to Amazon or iTunes in order to purchase it. It's great for finding new music and it used to be a good business.
But the record companies are afraid of streaming radio stations. They brought the issue to the Copyright Royalty Board, which decided last year to raise the cost to play a song over the Internet from 8/100 of a cent per song per listener in 2006 to 19/100 of a cent per song per listener in 2010. Pandora only makes revenue on ads on its website, so this will be quite a bite into profits.
The Washington Post recently talked with Pandora.
"We're approaching a pull-the-plug kind of decision," said Tim Westergren, who founded Pandora. "This is like a last stand for webcasting."…

"We're losing money as it is… The moment we think this problem in Washington is not going to get solved, we have to pull the plug because all we're doing is wasting money."
The problem is in Washington with the Copyright Royalty Board's decision. First, if the music industry understood what was in their best interests, they would encourage the promotion of their music. Second, these rules only apply to the US. So I can still listen to streaming radio coming from Canada or anywhere else. Only US-based sites are punished. Third, no fees are charged to traditional over-the-air radio stations to play music.
Rep. Howard L. Berman of California is trying to negotiate a deal between web radio companies and SoundExchange, which represents the record companies. Hopefully he can encourage a more reasonable approach to music over the Internet.