PDF, standing for Portable Document Format, is a common format used for sending read-only files. While it was invented by Adobe in 1993, it is now an open standard. So Adobe and others now make some useful PDF tools.
PDF Readers
Of course, you can get the free Acrobat Reader from Adobe.
If you want a smaller and faster reader, try the Sumatra PDF (Windows only).
PDF Writers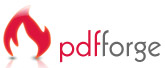 A great addition to any computer is a PDF writer, which allows you to create PDF files from other documents. Macs can do this by default as a print option. Windows users can download PDFCreator. It adds PDFCreator as a printer which is handy if you want to make PDFs or just for when you don't have a real printer around.