The new Logitech Easy-Switch Keyboard
 for the Mac is an awesome keyboard.  It has a big advantage of 3 keys that quickly connect to 3 different Mac or iOS devices.  You can put your Mac on button 1, iPad on button 2 and iPhone on button 3.  Just one press and you're ready to type on the device.  Unfortunately, to have these 3 buttons, the iTunes next track and previous track buttons aren't there like on Apple keyboards.  I use those all the time and its just not the same having to take your hands off the keyboard and mouse over to iTunes to click next.  Fortunately, the Mac has the ability to define new keyboard shortcuts.
Step 1 – Create a new Service for iTunes Next Track via automator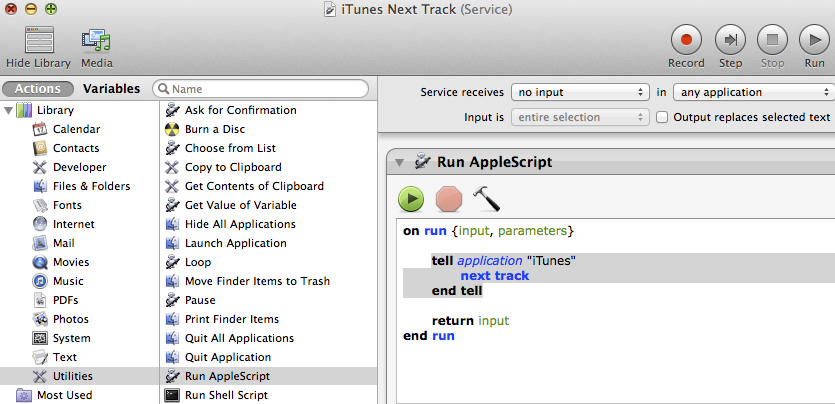 Launch the Automator app and create a new Service.  In that service, Run AppleScript and select no input for what the service receives.  The AppleScript tells iTunes to go to the next track.  Save the service as iTunes Next Track.  You can create a new service and do the same for iTunes Previous Track.  It is exactly the same process except change the AppleScript "next track" to "previous track".
Step 2 – Define the Keyboard Shortcut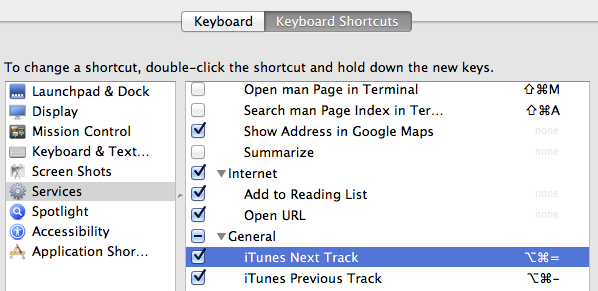 Your new Services should appear under Keyboard Shortcuts in System Preferences.  They are at the bottom of the Services list.  Here you can select the shortcut and then enter the keyboard shortcut you want to use.  In my case, I chose to use "option command =" because the = key also has a + on it so + to go next track and – to go previous track.  You must choose this shortcut wisely or it may not work.  If an app that has focus has the same shortcut, it will overrule this one so you need to choose something that doesn't seem present in the apps you are using.  That's part of why I had to use "option command" because just one of those with = is already in use in some programs I use.
Fortunately, the play/pause and volume buttons are still there so those don't need to be re-created on the Logitech Easy-Switch Keyboard.  Even though I now have to hit 3 keys at once instead of just the next button, the Logitech Easy-Switch Keyboard is the best wireless keyboard for the Mac.