Slingbox is a device that hooks up to your cable, tuner, or DVR. You connect to it remotely using the SlingPlayer software to watch TV from wherever you are on the Internet. It costs $150 to $240 depending on the version you want.
Because it is a one-to-one connection and not a broadcast, it isn't illegal. So if you want to watch your home TV while you're on the road, or if you want to watch the football team that isn't shown where you live, Slingbox is a great solution.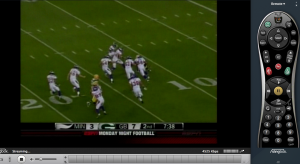 The quality isn't perfect. It depends on the upload bandwidth at the Internet connection where the Slingbox is located. Sports programs unfortunately will suffer the most from the video compression because they have a lot of action. Sometimes you just need to listen to the announcers to figure out what really happened.
If football is very important to you, then consider purchasing DirecTV and then adding the Sunday Ticket for $300. But if you can handle the reduced video quality, Slingbox is a great solution.
UPDATE: Slingbox just released the Slingbox Pro-HD
, their new top-of-the line version. This box can now send high definition video over a local network.