The Consumer Electronics Shows (CES) just wrapped up in Las Vegas and one of the main themes was 3D video coming to home televisions. Along with this, the big movie Avatar is being shown in many locations in 3D.
While 3D adoption will grow, there are some problems such as having to wear silly glasses and the "depth of field".
Depth of Field Problem

About 20% of the people I know who saw Avatar in 3D said that they felt nauseous or got a headache. This is primary due to a "depth of field" problem.
When you look at a close up object in the real world, you focus on it and things in the background are out of focus. You then look at something far away and then can focus on that clearly.
In 2D movies, the camera focuses on what is important and other items are out of focus, especially when there is a wide depth of field.
In 3D movies, our eyes expect to be able to look at an out-of-focus area and have it come into focus, just like in real life. But if it was shot out of focus, this is impossible. Further, the shallower the depth of field (meaning the more that the foreground and background are both in focus) the more cartoonish a video can look. This is a reason that cartoons, because they have no depth of field, work great with 3D.
An article at Shadow Locked explains How to avoid getting a 3D headache while watching Avatar. You have to look at what is in focus. See picture: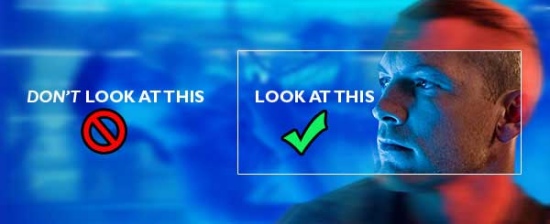 3D Does Work in Many Cases
For cartoons and sports, we do not expect to see a depth of field. And typically James Cameron shot Avatar with little depth of field. But, to the extent that depth of field is an important tool for movies, it will limit adoption of 3D movies for many people.