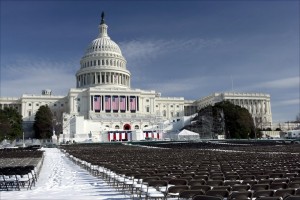 The Presidential Inauguration of Barak Obama on January 20th is expected to be a huge event, eclipsing the previous largest ever turnout since Lyndon Johnson's 1965 inauguration with 1.2 million people. D.C. Mayor Adrian Fenty says up to 4 million people could converge on downtown Washington for the inauguration, although the Secret Service says that it expects 2 million people.
Screenings
Every one of the 240,000 people attending the actual swearing-in ceremony will be screened by walk-through or hand-held metal detectors. Beyond the obvious weapons not allowed, you also will not be allowed to bring:
Sticks or poles
Pockets or hand tools, such as "Leatherman"
Packages
Backpacks
Large bags
Duffel bags
Suitcases
Thermoses
Coolers
Strollers
Umbrellas
Tripods and camera bags
Laser pointers
Signs
Posters
Animals (other than service animals)
Alcoholic beverages
Other items as determined by and at the discretion of the security screener
So while you might have thought it would be funny to point a laser pointer at the presidential motorcade, it will not be allowed.
It is likely to be so crowded that you won't want to bring much with you besides your cellphone and camera.
Cellphones
Cellular carriers are adding capacity with temporary towers along the parade route. Still, with an unknown number of visitors, there is concern that the network will be overloaded.
One suggestion is to use text messages if your calls are not going through. These take up very little bandwidth and should work more easily.
Emergency responders and 911 calls will be given priority so those calls should be able to get through.
Getting to the event
All N. Va bridges will be closed to cars. You can walk or bike the bridges.
D.C. will be mostly shut down to traffic.
News

The Washington Post has an Inauguration Central website that includes:
A live webcam that is focused on the U.S. Capitol to show the construction of the Inaugural stage.
An FAQs section that gives users valuable information about ticket availability, transportation, ceremony timing and parade information, providing a sense of what to expect during in the weeks leading up to the Inauguration.
A downloadable map of the parade route with the most updated road closures in the area.
A calendar of Inaugural parties and events happening during Inauguration Week.
Quizzes, polls and discussion threads which give users a chance to test their inaugural knowledge.
A visitors guide which includes an interactive map of attractions on The Mall, suggestions on planning a trip to D.C. and advice on where to get lunch post-inauguration.
A section that features inauguration history, including a slideshow that provides a look at past inaugurations.
Inauguration Pop-up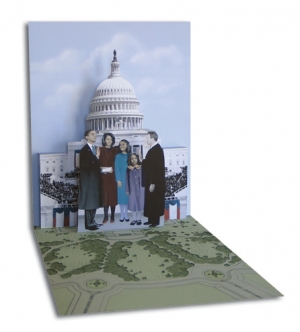 One of favorite items to commemorate the inauguration is a pop-up picture of the event that you can print out and make yourself. This low-tech print out might not be like attending the real thing, but it will certainly be more comfortable.