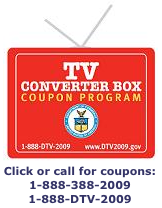 Last night the Senate passed a bill to delay the shut-off of over-the-air analog TV from February 17 to June 12, 2009. The Obama administration had urged the delay, saying that many consumers are not ready.
Nielsena said last week that more than 6.5 million U.S. households are not prepared and could see their television sets go dark next month.
The House might not immediately pass the Senate's version of the bill, which does not specify how the costs of a delay would be covered. The House could add its own provisions, which would require further Senate action. It could also waive budget rules and seek funds in the stimulus package. Still, it looks like the House will pass some bill that will delay the shut-off until June 12.
See our previous post on Digital TV Transition to see if you might be affected by this transition. Or go to the government's National Telecommunications and Information Administration (NTIA) site for more info and your free $40 voucher for a digital TV converter.
UPDATE: Despite the unanimous vote by the US Senate to delay the Feb. 17 deadline to transition to digital television, the changeover will proceed as planned after a vote Wednesday by the House of Representatives.
It is unclear if this permanently kills the delay. With less than three weeks untill the planned analog shut-off, the window is almost over for a delay. The television stations need time to make preparations so unless something else happens this week, I now expect the Feb 17 transition to happen.
UPDATE 2: Today (February 4, 2009) the House of Representatives voted again and this time passed the delay of the analog shut-off until June 12, 2009. Now President Obama will sign the delay into law.