If your computer does not boot, there may be problems with drivers or write permissions. In order fix the computer, you can try to boot the operating system into safe mode. This overcomes many common problems that cause a computer not to boot.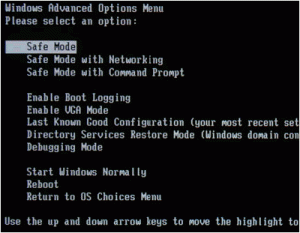 Windows
In Windows Vista, Windows XP, Windows 98, and Windows 95, you get into safe mode by holding the F8 key at computer startup.
You then choose Safe Mode or Safe Mode with Networking as shown on this screen.
Mac OS X
Although it is not often used, the Mac has a safe mode too. Hold down the Shift key during computer startup.
For a recent Falls Church, Virginia customer I had to do this because the computer's file permissions got screwed up. Once into the operating system with safe mode, I was able to use Disk Utility and repair permissions.