The Aspire One
currently ships with BIOS 3301 even though there is a later version.  Unfortunately, they do not provide very good instructions on how to upgrade or exactly what the new BIOS fixes.  The rumor is improved fan control.  To install the update, perform the following steps.
Create a FreeDOS bootable USB flash drive
Once you have your USB flash drive, be sure it is formatted FAT32.  Then download the program UNetbootin.  Start up UNetbootin and select the Distribution FreeDOS.  Then towards the bottom select your USB drive letter and click OK.  The drive should now be bootable.

Acquire BIOS 3304
You can download the 3304 BIOS here.  Extract the contents of the zip file and copy them to the USB flash drive.
Boot off the USB drive and install
Start up the Aspire One and hit F12 until the boot screen appears.  Choose to boot off of your USB drive and you will see a UNetbootin screen where you can select default.  You will then see 5 boot options.  Select #5 FreeDOS Live CD only.  Once booted, you'll be at a DOS prompt on drive A:\.  Change to C:\ by simply typing "C:\".  You should then be able to see the contents of your usb drive by typing "dir".  Then type "cd ZG5_3304" if that is the directory where you put your BIOS files.  Then the last step is to type "3304.BAT" to run the install script.  A progress screen will appear.  The install should take less than a minute.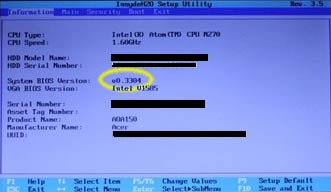 Verify
Once the flashing of the new BIOS is complete you can reboot.  You can remove your USB flash drive.  Press F2 at boot to get into the BIOS and confirm that System BIOS Version says v0.3304.
Problems
If you encounter any problems, the most likely cause is your usb drive.  You can try to reformat your drive or use a different usb flash drive.