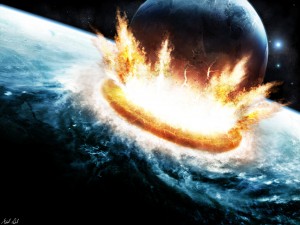 Is it time to buy those boxes of ammo and head for the hills? We'll see.
This Wednesday, April 1st the Conficker worm will do something. No one knows what. But it has security experts up late. It is believed that at one point Conficker was on 6% of the world's PCs. This has been reduced dramatically by the work of Microsoft in issuing special patches for the worm. But hundreds of thousands of PCs are still estimated to be infected.
Early this month, Symantec's security researchers began noticing that the worm was changing in order to avoid steps to interrupt the worm's links with its hacker controllers. The first versions of the worm generated a list of 250 possible domains each day that could be used to route instructions from hackers. The new edition uses a list of 50,000 URLs in order to overwhelm security researchers.
Typically hackers use large botnets of computers to commit distributed denial of service (DDOS) attacks against websites. The hackers will demand that large websites pay them in order to be spared.
If you are worried about your computers or those of people you love, you can read Microsoft's alert and my earlier post on how to prevent and remove the virus.