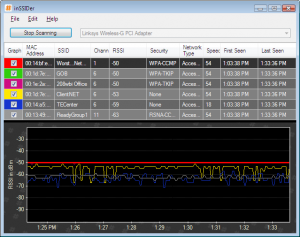 inSSIDer: Wi-Fi network scanner is free open source software for finding WiFi networks from a Windows XP or Vista computer. It is great for testing wireless network signal strengths, doing WiFi security checks for open access points, and determining what might be a good free channel to choose for your WiFi to have less interference.
Typically people have used software called NetStumbler. Unfortunately NetStumbler hasn't been updated lately. Thankfully the folks at MetaGeek decided to make and give us inSSIDer for free.
The term inSSIDer is a play on words, with "SSID" being the term for the name of a WiFi network. If you need to find or analyze WiFi signals, inSIDDer is a great free tool.